All about outdoor living...
Today i am sharing with all of you the essentials when remodeling your yard or balcony should you live in an apartment... I have umbrella choices, furniture choices, gas or regular girl, and many other exciting items that you can use at affordable prices when remodeling your back yard...
Enjoy the pics and Post..
Building a rock waterfall..
Fall is here, and you've no doubt already seen its withering effects on your perennials as they die off for the colder months. Gardens are a lovely addition to any home's landscaping, but it can be a bit disheartening to care for them all spring and summer, only to watch them fade to brown come winter.
Rock gardens can help combat the retreat of your flowerbeds. Always a staple in modern landscaping, rock gardens feature large and small colorful rocks scattered artistically across a front or back yard. Here are the basic steps to create your own rock garden, so you can have a beautiful yard all year round:
Choose the location for your rock garden. If you want to place it in a large, sprawling space, you'll need more rocks and a more natural design concept than if you want only a small rock garden bed amidst other landscaping elements.

Find the rocks that you'll use in the garden. When choosing rocks, consider the color (do you want red sandstone or grey limestone?), size, and shape of your rocks. Large, oddly shaped rocks are often the centerpieces of a rock garden.

Choose the plants that will accent your rocks. Some believe that the plants you choose should only be those that grow naturally amongst rocks, while other go for sprigs of bright color amidst the stones. The choice is yours.

Place, plant and position your rock garden. You'll likely need help from a strong friend or a landscaper when moving the heavy boulders and rocks around your yard, so before you even begin you should have a solid design plan in your head to minimize the amount of lifting.

Enjoy your year-round landscape!
The Cot Daybed...
Outdoor inspirations. For all your rest or play needs, the Cot Day Bed from la-Fete will provide. It appears almost like a modern sculpture, but is so carefully constructed for comfort and durability that you won't want to come in even after the sun has gone down. The patent polymeric technology that these cots use in their construction is the same that is found on many yachts and beach resorts around the world. They have a comfortable foam core that is coated with a substance that ensure that chlorine and other spills won't reduce the sheen. And the Cot Daybed is available in four colors, to perfectly match any of your current outdoor decor. The Cot Daybed can be found at PlushPod.com for $1,360.00.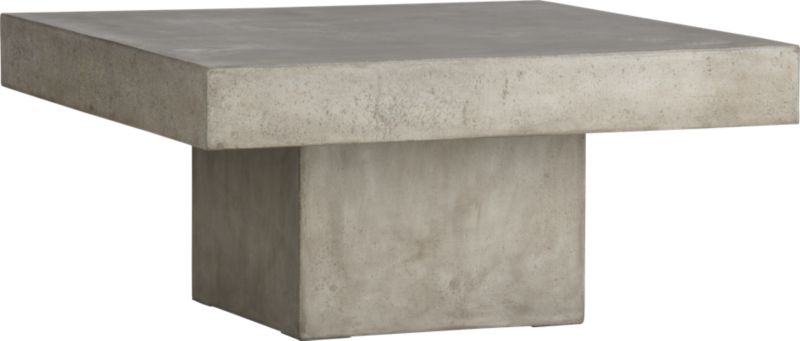 Style carved from the earth. Bring some nature into your livingroom with the Element Coffee Table. This table is perfect for a cottage, in a protected outdoor setting, or in any daring livingroom that is looking to carve out its own, unique style. This stone table is made from a combination of granite, stone, marble and natural cement fibers. And not only is it made from natural materials, it is made in an eco-friendly facility that avoids the use of fossil fuel. So be kind to your planet while you are upgrading your interior. The Element Coffee Table can be found at CB2.com for $349.00.
Cozy furniture for afternoon naps..
You don't have to have an ocean at your backdoor to appreciate a modern lounge daybed. You really don't even need to be the type of person who enjoys an afternoon nap. All you need is to be someone who appreciates comfort and an elegant, contemporary look. At times, comfort and contemporary certainly do not live harmoniously but theLagoon daybed by Solpuri proves that the two can create the perfect balance.
Imagine this stunning piece by your pool, on your deck or even under your favorite tree, it certainly would catch a few glances from jealous neighbors. The Lagoon features a very modern roundish frame with an amazingly plush mattress to envelope you in comfort and promote deep relaxation. It's even large enough to sleep two!
What makes this daybed so special is its removable shade that transitions with ease so when you've had enough sun you can create your own shade. Still not impressed? How about the fact that the translucent base actually lights up on the inside to create a gorgeous moonlight-colored glow at night?
If you are looking for that perfect contemporary piece that will compliment your outdoor living space yet invite you in for days of relaxation, the Lagoon daybed just might be it. For more information on this season's collection, visit the Solpuri website.
Landscaping on a budget...
If you haven't tackled your landscaping yet because you think it's not in your budget, you should know there are a few tricks you can use that are very inexpensive. You shouldn't feel as though you have to splurge and buy everything all at one time either. Adding a few things here and there every week or every other week is often easier than paying for one big shopping spree.
Rocks and Stones
Borders, garden walkways and walls can be pretty expensive when you purchase commercial products. If you scout around and always ask permission, you'll often find old bricks from structures that have been torn down that you can use for this purpose. Sure, they may be old but they have character! You can create walkways and even mock patio areas with stones and rocks as well which you can also often find for free.
Native Plants
You will find that native plants are not only traditionally inexpensive, they require less care. This means that you're not having to water so much or buy fertilizer. You can often obtain seedlings or seeds from friends, family and neighbors if you ask around. Native plants traditionally resist disease and insects better as well. Keep in mind, the more plants, shrubs and trees you have, the less grass you have to maintain!
Experiment with Containers
If you do want to experiment with pricier plants, use containers for growing and place them around your landscaping. This will allow you to control and maintain them easier. Should you find that they do well in a certain location, you can always transplant them.
Make Use of Hedges
Hedges can outline your property, offer privacy and act as a sound barrier. Not to mention, those that stay full year round can help reduce your heating costs by blocking the cold winter wind when they're strategically placed properly
When you live in an apartment..
If you live in an apartment, condominium, loft, penthouse or if you're just fortunate enough to have a balcony off your second floor master bedroom in your home, there are a lot of things you can do with that railing! Regardless if you have wood, wrought iron or anything else, there is plenty of decor that will look fantastic.
Plant Containers – There are plant pots that attach to the inner side of your railing as well as ones pictured that sit on top. They are available in every color imaginable and they'll allow your plants to get a bit of sunshine that they may not receive if they were placed on the ground with an overhead balcony or ceiling.
Bird Feeders – Why not invite your feather-friends to share your balcony with you? There are even birdbaths available that you can attach to your railing.
Lights – Not only can you hang string lights, there are very modern, block lights that fasten to the railing as well. The best thing about these is most are solar-powered so you don't have to worry about fussing with electricity.
Crystals – If you have a traditional railing with vertical spaces, why not hang a few crystals to catch the sun's rays?
Why not spice up that railing? You can add a little pizazz to the outer side too! Make others looking up from the street wonder who the person is behind that fabulous balcony!
How to choose an umbrella...
A patio umbrella may not be something you really want to squeeze into the budget on top of all of your other springtime expenses to spruce up your landscaping but you may be surprised to discover how much more time you spend in your outdoor living space if you have one. It can be tempting to simply buy a small inexpensive round umbrella, which may be find if you have nice shade tree as well however, you may want to splurge just a bit more for a larger one.
Determine the size of the area that you want to receive shade. This could be the entire seating area or just a small section. You might even want to consider a swivel umbrella so that you can change its position as the sun moves, without fussing with moving the entire stand.
Grab some painter's tape, yarn, a few dog leashes or something you can use to outline the area with that you want shaded and lay them around the desired perimeter.
Use your measuring tape to measure across from side of the area to another to determine the size of the umbrella you need and you're ready to go shopping either in store or online.
A quality patio umbrella that is properly taken care of can last quite a long time so think of it as an investment. You will also find solar lights and even heaters that attach to some umbrellas so you can enjoy your outdoor living space even later on those cool evenings.
You should put as much thought into your grill as you do your kitchen stove. You will find that most people have a full blown love affair with either a gas or a charcoal grill, few people will say that they like both. Therefore, asking the advice of those around you will often get you some extremely opinionated answers.
Gas Grills – It's all about convenience with gas grills. There's not wood chips or coals to heat up, all you need to do is twist a knob or flip a switch and you're ready to grill. They are extremely versatile and offer a very consistent flame so you can cook your burgers, buns and veggies without charring any of them.
Charcoal Grills – It is said that food cooked on a charcoal grill always wins any taste test. There really is no competing with the flavor. Unfortunately, you can't be blessed with all that tasty goodness without putting in a little grunt work. There's more prep time and flames can be all over the place so you really do have to babysit your food.
If you're ready to buy a grill to really kick off your spring and summer season the right way, take the time to evaluate your needs, become familiar with different products and read reviews. Choosing the right grill is imperative. If you buy one you're not crazy about, you may as well park it in the garage next to that kayak you keep saying you're going to get some use out of every year!
There are actually a few very good reasons to install solar lights along the edges of your driveway. First, they bring your landscaping to life at night and they are nice accent pieces during the day. Second, they help guide people into your driveway in the dark. Surely you have pulled into a foreign driveway before whether you were visiting or just turning around and found yourself struggling to see, especially in the rain. Of course, you can pull into your driveway blindfolded but lights will help others find their way and keep them off your grass.
Another reason for solar lights is they deter theft and vandalism. Whether you're home or not, people will ill intentions are less likely to target a property that is well lit up. So, how do you decide which ones to buy?
Buying the value pack of six in a box is not always a good idea. After all, you want them to last. Choose those that compliment your home and your landscaping. They don't have to be extravagant but they shouldn't take away from your home either.
Whatever you do, don't make the mistake of eye-balling it when you install your solar lights. Take the time to measure the driveway, divide by how many lights you have and then space them appropriately, measuring every time. You'll be much more pleased with the outcome this way!
There you have it.. The perfect outdoor living remodeling job..